features & benefits
Let's make your big dream come true with Shinhan Credit Card's Installment payment service.
Flexible interest rate with flexible tenors of 6, 12, 18 months
Earn rewarded cashback/points/miles accumulation as normal transactions
Apply to all stores & e-commerce websites worldwide
Interest
Interest: Interest on reducing balance
18 Months: 20.5%/ p.a (1.71%/p.m)
12 Months: 21%/p.a (1.75%/p.m)
6 Months: 21.5%/p.a (1.79%/p.m)
Example of Installment Plan with flexible interest rate:
Customer has payment of VND 3,000,000 to convert to 6 months installment with interest rate 21.5%/p.a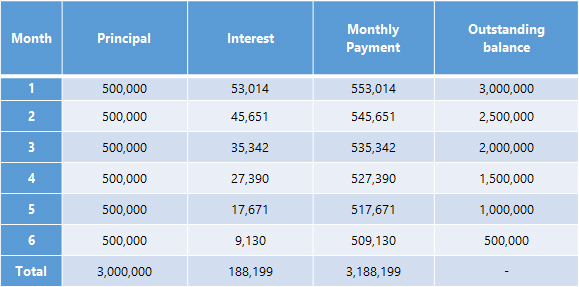 * Note: The calculation is estimated of illustration purpose only; it does not constitute an actual approval of installment amount or monthly payment. It will be changed by the customer's billing date & installment starting date.
Terms & conditions
The applicant must be Shinhan Consumer Credit Cardholder
Apply for transactions from VND 3,000,000 and above
The Installment Plan is not applicable for following transactions: gold purchasing, cash advance, purchase transaction that is in overdue status or other transactions declined by Shinhan Bank Vietnam.
Interest rate can be changed depending on Shinhan Bank Vietnam policy from time to time.
Details of Terms & Conditions here
Registration
VERY QUICK & EASY by choosing one of following options:
Call our contact center at 1900 1577