30/11/-0001
With the slogan "Accompany for a better tomorrow", Shinhan Bank Vietnam would like to affirm our belief that education is the most important resource to ensure the future ofsociety.
Shinhan Bank VietNam's scholarship program "Widen your future path" gives support to 40 students of University of Banking each year, with annual scholarships of 175 million VND. The purpose of this program is to identify and encourage talented and dedicated students who will be potential banking leaders in the future.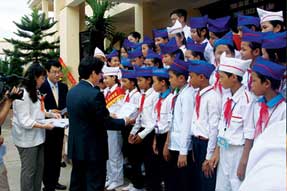 In addition to annual scholarships for University of Banking, Shinhan Bank Vietnam also provides morethan 150 scholarships each year to poor studentsin Binh Duong, Ha Noi, Da Lat, Nghe An, Bac Ninhand Dong Nai to bring the greater opportunities and incentives to the poorest students in such poor regions so that they can continue staying in school.We also hope to improve the quality of education for poor students from primary to high school in rural areas as well as encourage the participation and support of local communities in the development of education for impoverished students.